Steamy, fragrant mulled wine is not only a hit at the Christmas market: you can easily make it yourself with the following mulled wine recipes. Then you know exactly how good the quality of the wine is and you can determine the sugar content yourself.
Pleasant warmth in the body awakens Christmas anticipation: what would Advent be without mulled wine? By the way, we drink about 50 million liters of it every year in Germany at Christmas.
In addition to the classic red wine, sparkling white wines and non-alcoholic versions are also available. Supermarkets now offer a large number of different variations, many of which did not fare well in the Öko-Test 2015 mulled wine test. Just make your own hot Christmas drink – we present three simple and delicious recipes.
Tip: Read more interesting facts about organic mulled wine here.
1. Classic mulled wine recipe
To make your own classic Christmas market mulled wine, you need:
1 bottle of dry organic red wine (eg Pinot Noir)
1 sliced ​​organic orange
2 sticks of Ceylon cinnamon
3 cloves
2-3 tablespoons of sugar, honey or agave syrup
a few capsules of cardamom flavor
optional: vanilla bean
Tip: Make your mulled wine seasoning mix in stock.
Make your own mulled wine: Here's how it works
For our first mulled wine recipe, heat the red wine in a large saucepan over medium heat. Danger: When making it yourself, make sure that the red wine never boils, otherwise the alcohol will evaporate. Prolonged heat can also produce the sugar breakdown product hydroxymethylfurfural (HMF), which is suspected of being carcinogenic.
While heating, add the rest of the ingredients. Organic lemons also taste good instead of oranges – or you can just combine both. If you like the intense taste of cardamom, you can add a few capsules.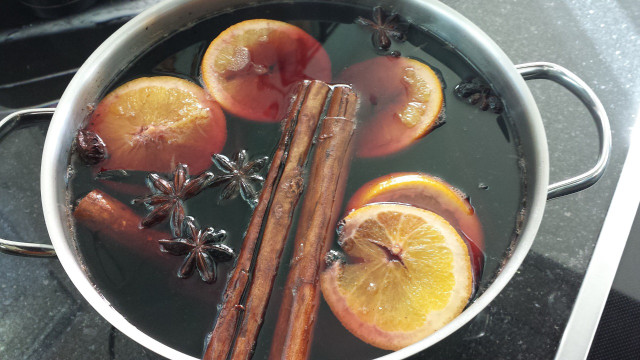 Then take the pot off the stove and let the whole thing simmer with all the ingredients for about an hour. Before serving, reheat the drink (don't let it boil!) and strain through a strainer into mugs or a thermos, so all the spices are retained.
It's so easy to make mulled wine yourself – Cheers!
Eligibility: Baked Apple Recipes: Easy DIY Ideas
2. Make your own white mulled wine
If the classic is based on red wine, the "white" variant consists of…? That's right, white wine is the basis of this mulled wine recipe!
White mulled wine recipe:
1 bottle of organic white wine (eg Riesling)
1 sliced ​​organic orange
1 organic lemon
3 pieces of star anise
2 sticks of Ceylon cinnamon
2-3 tablespoons of sugar, honey or agave syrup
For this recipe, start by grating the zest of an orange and a lemon. Be careful not to rub off the white skin. It tastes bitter, we only use the outer skin of the fruit in our white mulled wine recipe.
Then squeeze out the juice from the orange and lemon and put it in a saucepan with the white wine. Add spices and sugar or honey and heat slowly. As always when making mulled wine yourself: Please make sure that the liquid never boils.
Allow the drink to infuse for at least an hour, then reheat before serving. Good idea: Serve the hot drink with fresh apple slices, the white wine version looks even better than the red wine version.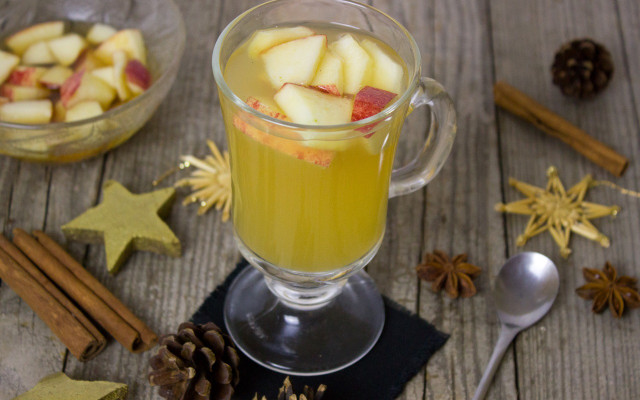 3. Winter punch: non-alcoholic version
Not only is this punch an alcohol-free alternative for kids, this alcohol-free mulled wine recipe is also perfect for anyone who doesn't drink alcohol or just wants to cut back on their alcohol consumption.
Non-alcoholic mulled wine recipe:
1 liter of grape or apple juice
1 stick of Ceylon cinnamon
2 cloves
3 organic lemon slices
1 small organic apple (cut into small cubes)
a little honey/sugar
Here's how it works: Heat grape or apple juice with all ingredients except honey or sugar. Since fruit juices are usually already very sweet, you may not need to add additional sweeteners. Therefore, taste the non-alcoholic mulled wine at the end of the heating time and then sweeten it if necessary.
Tip: To remove the sweetness from fruit juices, you can dilute children's mulled wine with fruit tea.
And if it needs to be quick, we suggest you buy organic mulled wine. Organic farming does not use synthetic chemical pesticides or fertilizers and is therefore better for the environment and your health. Organic mulled wine is available from many brands and in many (organic) supermarkets – for example Alnatura, Heißer Hirsch, Kunzmann or Landlust, you can find it online** at rewe, Pure nature, Memolife or Amazon.
DIY mulled wine alternatives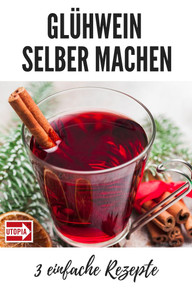 Read more at Utopia.de:
A German version is available: Three Easy Gluhwein Recipes: Make Your Own German Mulled Wine
** noted ** or orange underlined Some of the links to supply sources are affiliate links: if you buy here, you are actively supporting Utopia.de, because we will then receive a small share of the revenue from the sale. More information.
Do you like this post?
Thanks for the vote!