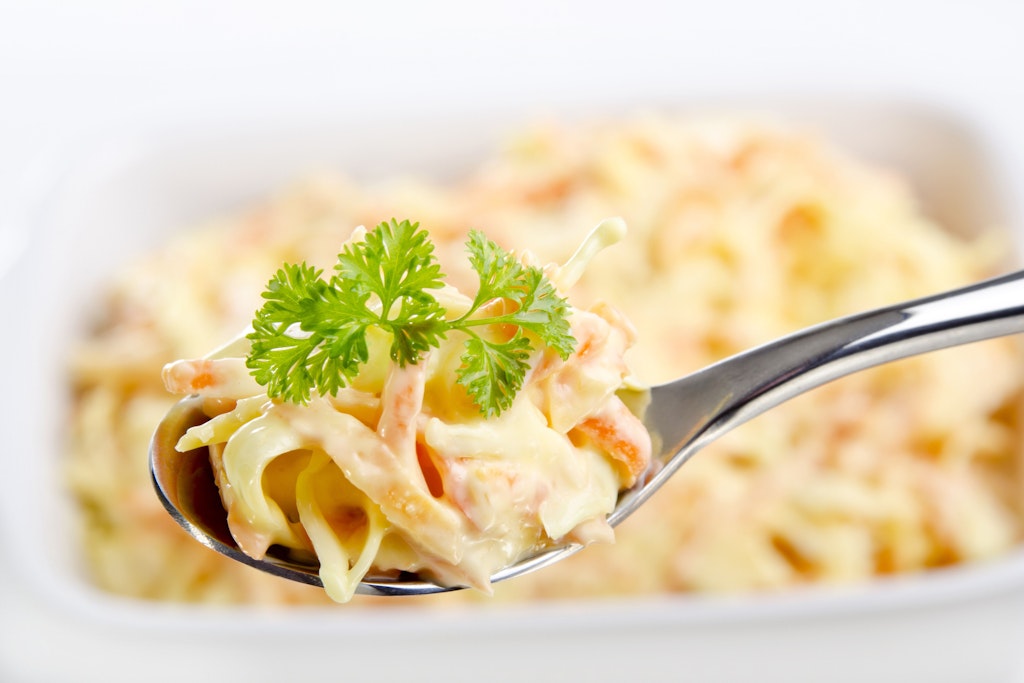 Coleslaw is the perfect accompaniment to almost anything that hits the grill. The American version of white coleslaw, called coleslaw, is very popular and a must for any BBQ. Coleslaw goes best with hearty meat dishes like hamburgers and steaks.
Also try: Brilliant idea for a garden party! A sturdy and quick sandwich cake – here is the recipe with smoked salmon, avocado and cheese >>
Coleslaw is topped with a creamy mayonnaise dressing and includes cream and carrots, which sets it apart from the classic coleslaw. Coleslaw—some call it farmer's salad—can be made just as easily and quickly as coleslaw. Try this coleslaw recipe here:
American Coleslaw Recipe
For eight servings of coleslaw you will need: 1 white cabbage, 1-2 carrots, 1 apple, 1 half lemon, 1 onion, 150 grams of mayonnaise, 100 grams of whipped cream, 2 tablespoons of white wine vinegar, 1 teaspoon of celery seeds, freshly ground in a mortar, 4 tablespoons of sugar, salt and pepper. The apple can also be left out.
It works like this: First, wash the white cabbage and remove the outer leaves. Then first cut the cabbage into eighths, remove the stem and cut the eighths into thin strips or plan finely. Peel and grate the carrot. Peel and grate the apple as well. Peel the onion and chop finely. Then mix everything in a bowl.
Also try: Super juicy, super tasty: Easy apricot cake recipe in a tin – perfect fruit cake for a summer coffee round >>
Squeeze the juice from half a lemon and add to the cabbage mixture. Then mix mayonnaise, heavy cream, vinegar, celery seeds and sugar. Season with salt and pepper. Mix the sauce well with the cabbage mixture and let it sit in the fridge for a few hours – or overnight.
Before serving, mix the coleslaw well again. You can also sprinkle chopped parsley on top.
Tip: The longer the cabbage stays in the sauce, the softer it will be. If you prefer the coleslaw to be crispier, you can let it steep for a shorter time. And: the thinner the cabbage strips, the better the salad goes with the dressing. Cabbage salad can be made with pear instead of apple.
By the way, the name Coleslaw comes from the Dutch word "Koolsla", which simply means "coleslaw".