Like in China
Quick recipe: Instant fried noodles with egg, chicken and vegetables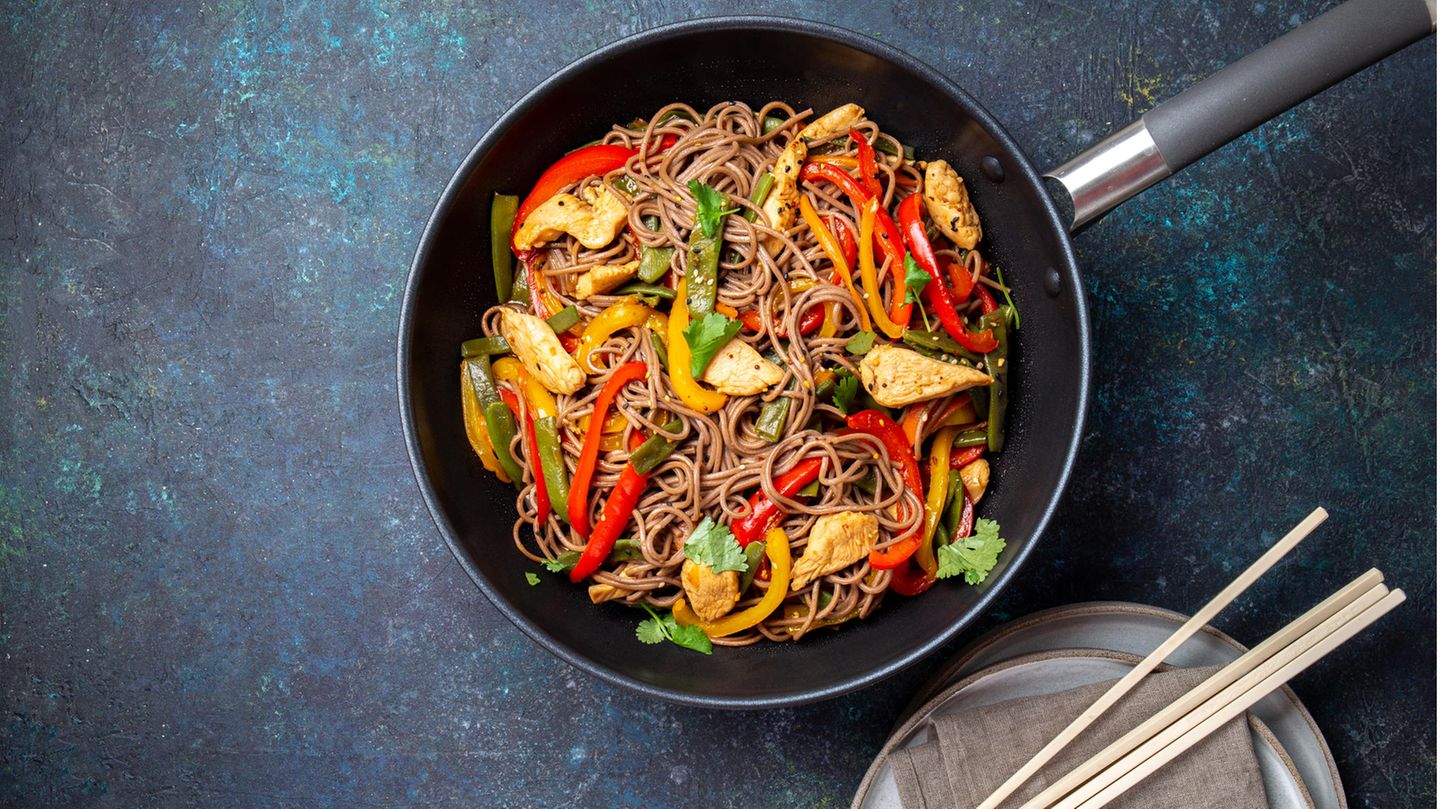 Fried noodles with egg, chicken and vegetables – just like from a reliable Chinese snack bar. This quick and easy recipe is ideal for impatient gourmets.
China has a traditional cuisine that is diverse and multifaceted due to the resources of different regions. In addition to dumplings, dim sum and spring rolls, fried noodles should not be missing. The fast food with colorful vegetables, eggs and meat is on the menu of food stalls typical of the country. In China, street food stalls have been a part of food culture for 800 years. Food is prepared here at lightning speed and cheaply. So it is with this recipe, which is ready in less than 20 minutes.
It doesn't take much more than a wok and a good amount of garlic to get that food stall atmosphere within your own four walls. While the Mie noodles cook in hot water, let's get really warm – Asian cuisine thrives on a variety of vegetables. Everything the fridge has to offer goes into the wok. Peppers, carrots and mushrooms are especially good, and broccoli or sprouts harmonize wonderfully with the aromatic sauce made from sesame oil and soy sauce.
Due to their strong spicy aroma, dried shiitake mushrooms are ideal for Asian wok dishes. Asian cultured mushroom must be soaked in warm water before processing. Here, it releases some of its strong aroma into the soaking water, making it ideal for seasoning the dish later. So be sure to catch some of the water when you pour it out. As one of the most used spices in Chinese cuisine, garlic brings an authentic flavor to the dish. When fried, the leek releases its unmistakable aroma and, together with fresh ginger and spicy scallions, gives it quite a kick. We use tender chicken breast as a protein source. Alternatively, tofu or shrimps bring variety to the home food stand.
Finally, the key to ultimate pasta happiness lies in the egg. When whisked with soy sauce and sesame oil, it thickens in the pan and coats the rest of the ingredients with a subtle layer of spice. Voilà – served with fresh sesame, the dish is steaming on the kitchen table.
Quick fried noodles recipe

ingredients

250 grams of mie noodles
6 dried shiitake mushrooms
6 spring onions
1 thumb-sized piece of ginger
3 cloves of garlic
1 red pepper
200 grams of carrots
200 grams of chicken breast fillet
2 tbsp sesame seeds, toasted
1 tbsp sesame oil
2 tablespoons of soy sauce
2 eggs
Salt pepper
preparation

Boil a liter of water. Pour it over the noodles and let it stand for five minutes. Pour off and drain.
Pour 200 milliliters of boiling water over the mushrooms in a bowl and let them soak for ten minutes.
Drain, reserving 100 ml of the soaking water. Remove woody mushroom stems, cut caps into strips.
Cut the spring onions into small pieces. Cut the ginger into thin strips. Slice the garlic thinly. Clean the core of the pepper, cut the pepper and carrot into bite-sized pieces.
Wash the chicken, dry it and cut it into very thin strips.
Heat the sesame oil in a wok over medium heat. Add spring onions, ginger and garlic and fry for two minutes.
Add the chicken and brown while turning, season with salt and pepper. Add the pasta, mushrooms, carrots and diced peppers and fry. Deglaze with mushroom water.
Mix a tablespoon of sesame oil with soy sauce. Beat the eggs and mix in the sesame and soy mixture. Pour over noodles, stir, fry briefly.
Transfer the dish to plates, sprinkle with sesame seeds and serve immediately.