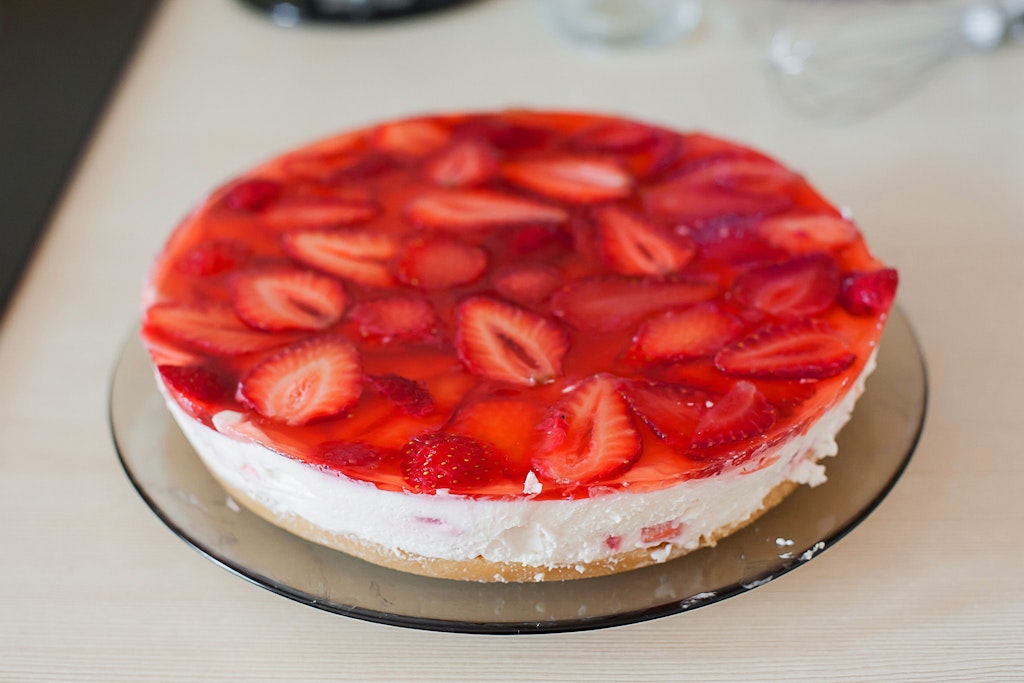 Cheesecake and strawberries, what a great combination! The coating of juicy strawberries makes the classic cheesecake the perfect summer cake. Not only is it very, very tasty, but it also looks shiny with a cake glaze. Try it!
As with any strawberry cake, it is important to use truly ripe, sweet and tasty strawberries. And preferably fresh. Wash the strawberries – before cleaning! – preferably in a water bowl. Not under a stream of water, it can damage the berries and the juice will start to flow out. And here's a strawberry cheesecake recipe:
Also try: So juicy and wonderfully creamy! A good recipe for Donauwelle – a delicious cake classic >>
Cheesecake recipe with strawberries
For a cheesecake with strawberries you will need: For shortcrust pastry: 200 grams of flour, 120 grams of cold (!) Butter in small pieces, 60 grams of sugar, 20 grams of icing sugar, 1 egg. For curd: 500 grams of curd (lean), 300 grams of yoghurt, 150 grams of butter, 3 eggs, 1 packet of vanilla cream powder. Covering strawberries: 500 grams of strawberries, 70 grams of icing sugar, 3 tablespoons lemon juice, 1 packet of red glaze, 2 tablespoons sugar, 1 tablespoon chopped mint, a little white wine or apple juice
Also try: Fruity, creamy and so delicious: A great recipe for a delicious apricot cake with cream glaze >>
Here's how it works: Knead the dough ingredients quickly into a dough. Here it is important to work quickly, otherwise the dough will be hard and not soft. Wrap in foil and refrigerate for half an hour. Meanwhile, preheat the oven (180 degrees). Roll out the dough with a rolling pin and place in a greased spring-cured mold and bake for about 10 minutes until golden.
Melt butter for cork. Put the curd, yoghurt, eggs and vanilla pudding in a bowl and mix with a mixer until smooth. Mix in the butter. Pour the mixture into a pre-baked shortcrust pastry and mix until smooth. Bake in the oven for about 50 minutes. Then allow the cheesecake to cool and remove it from the mold.
Wash, clean and slice strawberries for strawberry coating. Mix thoroughly with icing sugar, lemon juice and mint and leave to stand for about an hour. Place the cheesecake on a cake plate and place a cake ring around it. Drain the strawberries well, leave the juice. Divide the strawberry slices evenly over the entire cheesecake.
Fill strawberry juice with white wine (or apple juice) to a quarter liter. Prepare the cake glaze according to the instructions on the package. Pour over the strawberries and let cool. Remove the cake ring – the cream cheesecake with strawberries is ready to serve!
Read also: Grandma's best apple pie: There are many traditions and love in this recipe! >>
Tip: Strawberries should not be stored in the refrigerator for more than a day, it is better to eat them fresh. When stored in the refrigerator, strawberries lose their flavor and their healthy vitamins are broken down.