Most of the juices we buy are fruit juices made from juice concentrate. Really unnecessarily cumbersome: why not save waste and CO2 – and mix the juice concentrate at home, not in the production building? Designed and made: The pharmacy chain dm and the internet now have highly concentrated juices that can be diluted at home. How sustainable is product innovation?
Orange juice, multivitamin juice, apple juice: many juices in the supermarket are made from a concentrate mixed with water. Others are straight juice. It doesn't matter if it's a concentrate or a straight juice: most of the liquid in the bottle or Tetra Pack is water.
New on the market are highly concentrated juices sold in 200 ml Tetra Pack. At home, the concentrate is simply mixed with 800 ml of water, 200 ml of concentrate becomes 1 liter of fruit juice. The idea of ​​product innovation: Less waste due to significantly smaller packaging and lower CO2 emissions due to lower transport volumes. The end result is more environmental protection.
The idea is not entirely new, as more than 60% of all fruit juices sold in Europe are made from concentrates. Therefore, it makes perfect sense to transport a smaller volume across the country – and mix the juice with water directly at home.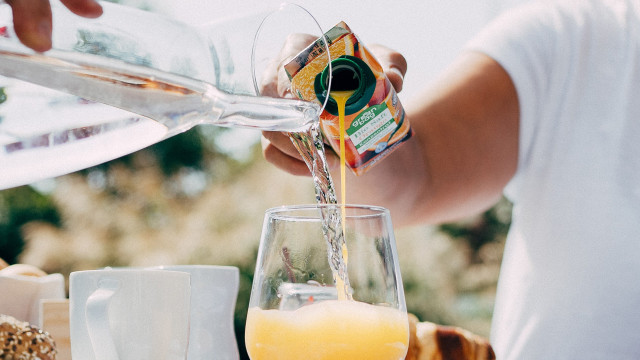 In short:
Juice from concentrate: When the juice is heated, it is reduced to about one-sixth of its original volume. To prevent the loss of aromas and vitamins, the steam is distilled off and later added again to the concentrate.
direct juice pressed and bottled directly.
at both types of juice (ie juice from concentrate and non-concentrate juice), the fruit content is 100 percent. No sugar or preservatives may be added.
The juice obtained from the concentrate is also produced in a not very concentrated form lower transport costs.
According to experts Juice is not healthier as a juice from concentrate.
It is a pioneer in highly concentrated juice concentrates that you can mix yourself Start-up green bag From Austria. The juice giant Eckes Granini is on the market with a new copy product: it will only be available in the dm branches of the pharmacy chain from April. "high C bioessents" in three varieties.
Green-Bag: concentrated organic juice from Austria
"Why do we have to transport about 80 percent of the water across the country to consume 1 liter of fruit juice?" – This question was asked by an Austrian start-up company which, in response, invented the Green-Bag organic fruit juice concentrate. There are currently three types of fruit juice available, which are currently only available in Germany through an online store. Organic juices are available in apple, orange and multi-fruit varieties and cost between € 1.99 and € 2.49 per 200 ml pack.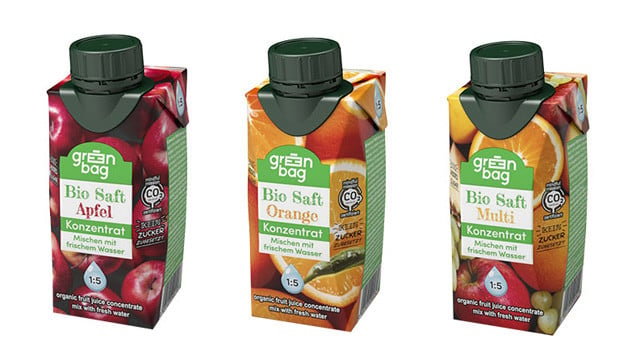 According to their own claims to collect Consumers through the practical small Tetra Paks 80 percent CO2 due to lower transport volumes and 66 percent garbage thanks to the small package.
The young company, located near Vienna, is committed to transparency and sustainability and is currently exporting its product – mainly to Germany. Martina Giczy, the founder of Green Bag, is delighted with the momentum that will be the subject of Eckes Granini's new product.
Hohes C Bio-Essence by Eckes Granini
Eckes Granini, Europe's leading juice producer, has launched a similar product: small, highly concentrated 'hohes C Bio Essence' juices. They are available from April in flavors of apple (naturally cloudy), orange and multi-fruit – exclusively dm twigs.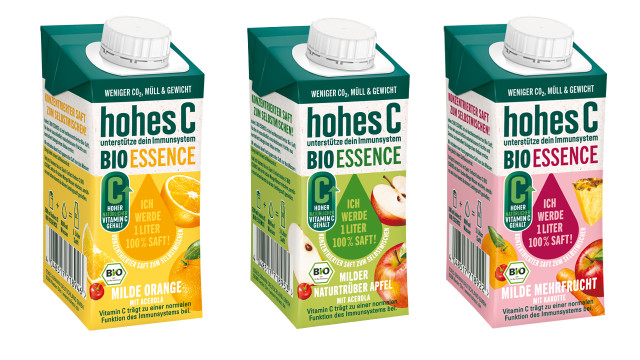 "Hohes C BIO ESSENCE is no different from our traditional juices in terms of taste or ingredients," explains Bianca Thiel, a spokeswoman for the company.
The savings in waste and CO2 are slightly lower than in the Green-Bag, but they are still important: a small pack saves 61 percent garbage and 62 percent CO2.
By the way: since the end of 2021, Eckes Granini has produced another juice concentrate product, but without organic ingredients: Make me some juice! is also available in apple, orange and multivitamin varieties. Mixing 200 ml of concentrated juice itself costs about 1.60 euros.
Juice without water: is blending concentrate a sustainable alternative?
Concentrates mixed at home are a step in the right direction. Anyone who buys juice concentrate for mixing protects the environment through less transport and reduces landfills. And those who don't have to carry around so much when shopping will hopefully ride the bike more often and leave the car at home. By the way, if you buy small packages, you will save a good 75 percent of your weight.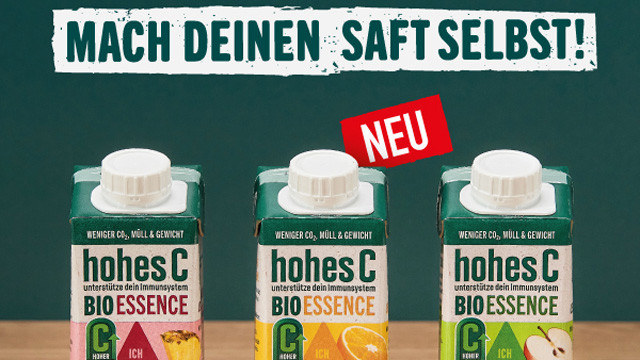 The new product raises the question: why does it take so long for smart ideas to reach supermarket counters? Most of the juices sold in supermarkets are far from sustainable. And in a large corporation like Eckes Granini, fruit juice concentrates are still only a small component in a wide range and a small step towards a more sustainable product range. Most juices still pack and transport huge amounts of water.
However, this juice must not be consumed without hesitation:
are the most sustainable Organic juices from the regionwhich has not had long transport routes behind it.
local tree is always better than exotic fruits, even in the form of juice: according to calculations by the Institute for Energy and Environmental Research (ifeu), the climate footprint of apple juice from Germany is only about half that of orange juice.
When you buy juice, it is better to grab a drink returnable bottles made of local glass.
ConclusionA: Even if a glass of juice just tastes good – the most sustainable drink is and always will be tap water!
Is tap water suitable for mixing concentrates?
Yes. According to the Federal Environment Agency's drinking water report, more than 99 percent of drinking water from major water suppliers is of good to excellent quality. If there are no plumbers in the house, you can drink tap water without any problems.
And: According to the Consumer Advice Center, the climate impact of mineral water in Germany is almost 600 times greater than that of tap water.
Good to know: When it comes to oat milk, there are also products that you can mix yourself.
** marked ** or underlined in orange Some links to sources of supply are links to affiliates: if you buy here, you actively support Utopia.de, as we will receive a small share of the revenue from the sale. More information.
Do you like this post?
Thanks for the vote!