Spaghetti always works. This quick vegan recipe for Spaghetti all'Assassina is quick to make and only requires a few ingredients. Therefore, it is particularly suitable for cases where you are short on time.
Spaghetti all'Assassina, also known as "killer pasta", is a dish from Italy. This quick recipe takes just over half an hour to make and you probably already have most of the ingredients at home.
By the way: This recipe comes from Bari in the Apulia region of southern Italy.
Spaghetti all'Assassina: how to make it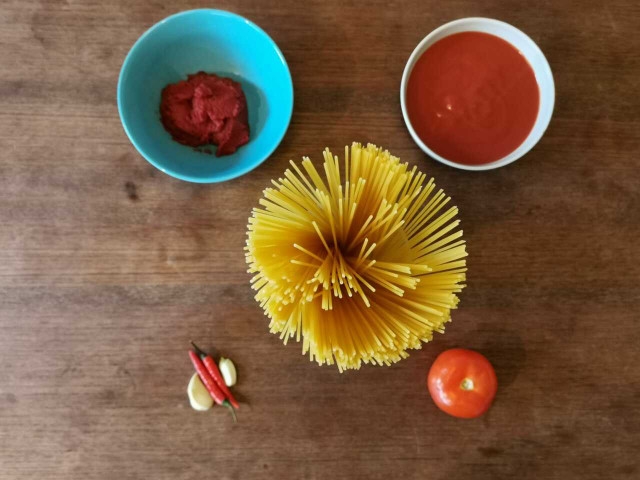 Spaghetti all'Assassina
Preparation: about 20 minutes
People: 3 servings
Ingredients:
50g




tomato paste

1 pinch




salt

2 toes




garlic

2




dried chili pepper

2 tbsp




olive oil

300g




sifted tomatoes

300




warm water

300g




spaghetti

1 tbsp




Italian herbs (optional)

1




basil leaf (optional)
preparation
Put the tomato paste in a saucepan. Dissolve it in about one and a half liters of tap water and add a pinch of salt. Place the pot on the stove and heat over low heat.

Photo: Cornelia Schweickhardt / Utopia

Peel the garlic and chop as finely as possible. Cut the dried chili pepper into thin rings. Put the olive oil in a pan – cast iron is best – and heat a little. Also add garlic and chili to the pan.

Photo: Cornelia Schweickhardt / Utopia

Wait until the garlic is slightly golden and fragrant. Then add the crushed tomatoes. Stir a few times and press the spaghetti into the pan.

Let the spaghetti simmer in the sauce, stirring occasionally. If it gets too dry, add a little warm water.

Add some of the dissolved, heated tomato paste and continue to cook the spaghetti in it. Stir constantly. Once the spaghetti has absorbed the liquid, add another portion of the dissolved tomato paste. Be careful not to add too much dissolved tomato paste at once. Take small steps here. Depending on the type of pasta you use for Spaghetti all'Assassina, you may end up with some dissolved tomato paste.

Photo: Cornelia Schweickhardt / Utopia

Towards the end, raise the heat again and let the noodles become partially crispy.

Photo: Cornelia Schweickhardt / Utopia

If possible, add fresh basil or other Italian herbs and season. Season it to taste.
Spaghetti all'Assassina: preparation tips
This dish is not only very tasty, but also very quick to prepare. So that nothing goes wrong when making Spaghetti all'Assassina, we have a few more tips for you:
When buying ingredients, look for organic quality to avoid pesticide residues. It is, for example, one of the strictest organic sealants Seal of Demeter, Naturland seal or this Bioland seal. Ours gives you even more information Seal Guide.
Use spaghetti that cooks relatively quickly (about seven to eight minutes). If you use spaghetti with a longer cooking time, the dissolved tomato paste may not be enough. If you use spaghetti like this, dissolve more tomato paste in the water. The mixing ratio remains the same.
If there is any tomato paste left at the end, just put it in the fridge. Here it will keep for a few days and can be used for other dishes. It is not only suitable for pasta dishes such as your Spaghetti all'Assassina, but also for other dishes. You can also use it to add a little pizzazz and flavor to sauces.
Don't worry if the spaghetti doesn't fit in the pan at first. After a while they soften and you can gently press them in.
Taste the dried chilies before using them. Depending on the level of spiciness, two pods may be too many or one too few.
Enjoy your meal!
Read more at Utopia.de:
** noted ** or orange underlined Some of the links to supply sources are affiliate links: if you buy here, you are actively supporting Utopia.de, because we will then receive a small share of the revenue from the sale. More information.
Do you like this post?
Thanks for the vote!