Spaghetti with vegetables is a versatile pasta classic. We introduce you to a simple basic recipe with Mediterranean vegetables and show you how you can change it seasonally according to the season.
In its simplest form, spaghetti is usually served with tomato sauce or pesto. You can improve this simple basic recipe without much effort by enriching the noodles with different vegetables. Spaghetti with vegetables is a versatile way to add varied and healthy ingredients to pasta dishes.
The regional selection of vegetables changes depending on the season. Here we present a basic recipe with Mediterranean vegetables that is best suited for the summer months. Zucchini is in season in Germany from June to October, peppers are available from July to October, and fresh (cherry tomatoes) mostly from April to October. But you can make spaghetti with vegetables in many different ways at other times of the year. Seasonal times for all local vegetables can be found at Utopia Seasonal Calendar.
Spaghetti with vegetables: a simple basic recipe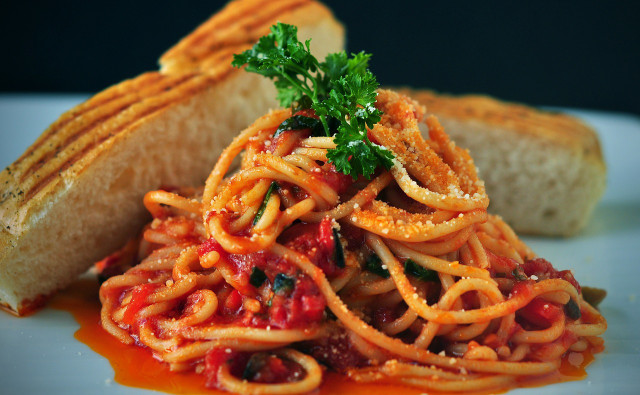 Spaghetti with Mediterranean vegetables
Preparation: about 25 minutes
People: 4 servings
Ingredients:
1




large zucchini

2




Red peppers

12




cherry tomatoes

1




Onion

2 toes




garlic

2 tbsp




olive oil




salt and pepper

1 pinch




paprika powder

1 teaspoon




Italian herbs (eg basil, oregano, thyme)

1 pinch




Chili powder (optional)

300g




spaghetti

400 ml




Tomato paste

1 tbsp




tomato paste

15




Olives (black, pitted)

2 teaspoons




capers




vegan parmesan for sprinkling
preparation
Wash the zucchini, peppers and cherry tomatoes. Halve the zucchini lengthwise and thinly slice both halves. Core the peppers and cut them into cubes or strips. Halve the cherry tomatoes.

Peel the onion and garlic. Cut the onion into thin rings and the garlic clove into very thin slices.

Heat olive oil in a pan. Fry chopped onion and garlic in it on medium heat until transparent.

Add zucchini and paprika. Season with salt, pepper, paprika and herbs. If you like it a little spicier, you can also add a little chili powder. Let the vegetables cook for about 10 minutes, turning occasionally.

While the vegetables are cooking, you can put the spaghetti water in a separate pot and bring it to a boil. Cook the noodles in boiling water according to package directions until al dente, then drain. You can find more tips on this here: Cooking Spaghetti: These tips will help you succeed.

Once the vegetables are cooked, stir in the passata, tomato paste, olives and capers. Let everything simmer for another five minutes and then add the halved cherry tomatoes.

With the lid on, let the vegetable sauce simmer for another minute or two and then mix it with the finished noodles. Before serving, season the spaghetti with vegetables again with salt, pepper and herbs. Finally, you can sprinkle them with vegan parmesan if you like.
Spaghetti with vegetables: tips and ideas for variations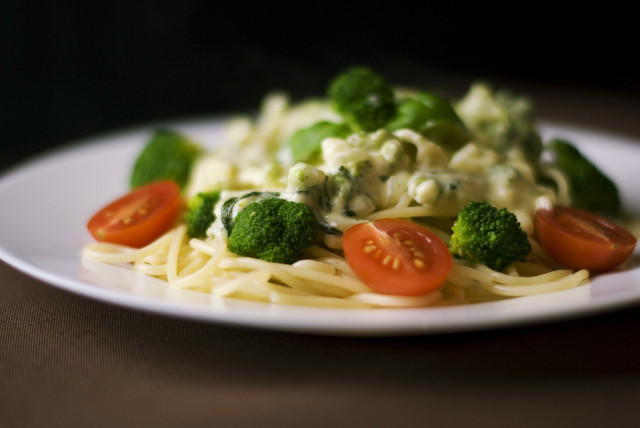 You can change and expand the basic recipe for spaghetti with vegetables according to your personal taste and seasonal offerings. You can in the summer Fit For example, make your own with fresh tomatoes or replace them with diced tomatoes. In addition to zucchini and peppers, you can also use other summer vegetables such as green beans, broccoli or fennel. You can also replace onions with spring onions from March to November or with leeks all year round.
In the spring season, you can also refine your spaghetti with asparagus. Green asparagus is best for this because it is spicier than white asparagus. If you make spaghetti with asparagus, you can mix (vegan) cream sauce or a little melted butter into the pasta instead of tomato sauce.
In autumn and winter, spaghetti with pumpkin-tomato sauce or homemade is ideal Pumpkin pesto on. Root vegetables such as carrots or beets are also a good addition to spaghetti with vegetables at this time.
If you want to do without canned tomatoes, you can also buy a few tablespoons of passata for a slightly simpler pasta version good olive oil exchange. For example, roasted broccoli and lemon juice taste good with it. If you're short on vegetables or need something quick, you can switch to a simple Italian classic: Spaghetti aglio and olio. All you need is olive oil, garlic and chili powder. You can get garlic (and also onions) from the warehouse all year round.
It doesn't matter which vegetables you use for spaghetti: especially when in season, you should get them from regional suppliers if possible. This keeps transport paths short and CO2-Emissions are mostly lower than imported vegetables. It is also best to buy your food products in organic quality – this way you support ecologically sustainable cultivation without chemical-synthetic substances. pesticides. This is not only good for the environment, but also good for your own health. For example, the organic seal indicates high quality standards demeter, natural land and organic land.
Read more at Utopia.de:
** noted ** or orange underlined Some of the links to supply sources are affiliate links: if you buy here, you are actively supporting Utopia.de, because we will then receive a small share of the revenue from the sale. More information.
Do you like this post?
Thanks for the vote!