Potato dishes are simply not to be missed when it comes to truly delicious and full-bodied food. But do you already know the potato carbonara? This potato dish tastes like carbonara spaghetti – only better! For lovers of delicious pastas, this dish is definitely a top recommendation. We have a recipe!
Read also: The world's easiest spaghetti carbonara – with this recipe they always succeed and are so delicious! >>
Carbonara Potato Ingredients
You need: 750 grams of potatoes, 1 teaspoon of salt, 1 pinch of pepper, 1 large onion, 1 teaspoon of olive oil, 150 grams of diced ham, 150 milliliters of boiled cream, 2 eggs, 50 grams of parmesan
Also read: "Fast Italian" home: pizza toast with ham and mushrooms – here's a recipe! >>
This is how the potato carbonara is made
Here's how: Peel and wash the potatoes and place in a large pot of water seasoned with boiling salt. Boil for 15 minutes, strain, allow to cool briefly and cut into thick slices. Peel the onions and chop them finely. Preheat oven to 180 degrees (top and bottom heat).
Heat the oil in a pan. Fry in onion cubes and ham cubes.
separate eggs. Mix egg yolks with cream, parmesan, salt and pepper. Spread the eggs in a casserole, add the onion-ham mixture. Pour the cream mixture over them and bake in the oven for 20 minutes. Enjoy your meal!
Read also: Use broccoli and cauliflower stalks: WITH THIS delicious recipe for cream soup, you don't have to throw anything away! >>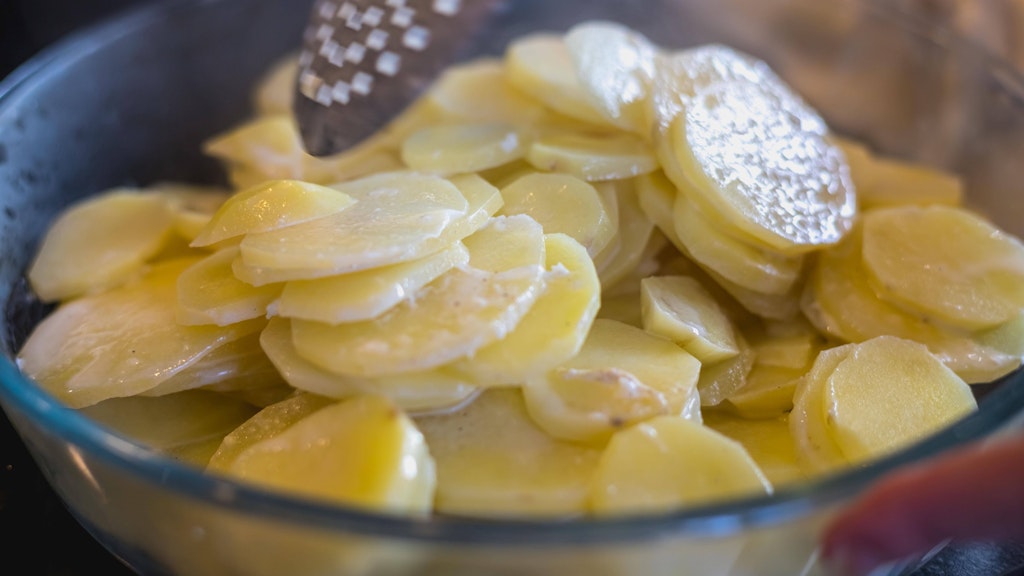 Read also: These tips change everything: THAT you can make slippery french fries nicely again! >>
Why are potatoes so healthy?
Potatoes are inherently valuable tubers: they provide almost no fat, but contain starch, fiber, minerals and secondary plant substances. Potatoes are low in calories as they contain about 80 percent water. Potatoes also provide high quality protein and significant amounts of potassium. Vitamins contain mainly B and C vitamins.
Read also: Easy cheese salad as in the GDR: This way, a recipe from the past is guaranteed! >>
.