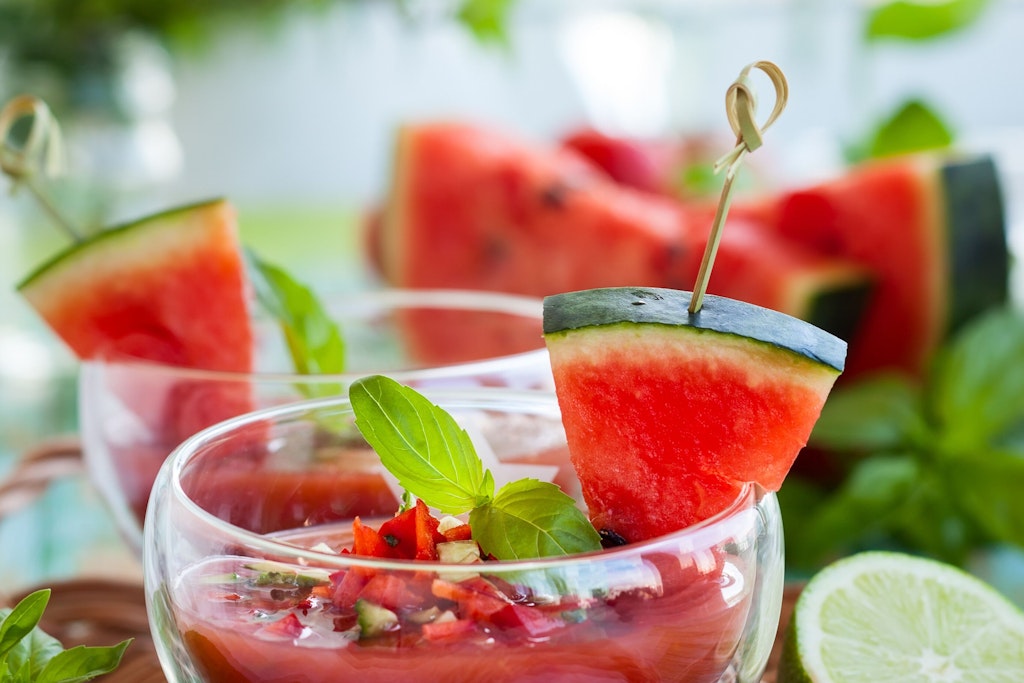 The suffocating heat has thankfully passed, but temperatures will remain at summer levels and could climb back into the 30s on Friday. Just the right time for refreshingly cool summer soups. A few days ago KURIER revealed the recipe for the classic Spanish summer vegetable soup Gazpacho.
This utensil is essential for gazpacho
Now there's an even more refreshing version of this cool Spanish specialty: watermelon gazpacho. Like the original gazpacho, watermelon gazpacho contains all kinds of healthy, fresh, uncooked ingredients, unlike other soups that use cooked ingredients.
Before you start: To turn the ingredients into a smooth and velvety soup, you will need one of the following kitchen tools: either a stand mixer, an immersion blender or a food processor with the appropriate function. Unfortunately, a hand blender is not enough.
Shopping List: What You Need for Watermelon Gazpacho (Serves 6)
1/4 smaller watermelon, chilled
500 grams of tomatoes
500 grams of yellow and red peppers
1 medium sized cucumber
lemon juice
1 onion
fresh basil
fresh mint
2 tbsp olive oil
2 tablespoons of white balsamic vinegar
To taste: salt, pepper, paprika (spicy), a little oregano
Garnish: toasted baguette bread, cut into cubes
Preparation: This is how delicious watermelon gazpacho is made from vegetables and fruits
This is the easiest part. It is best to pre-cool the vegetables – then the gazpacho is ready to eat immediately after making it. Clean and chop the ingredients so that they fit nicely in the blender – blend the vegetables with the other ingredients for at least 2-3 minutes to make a smooth, creamy soup. Now taste the cool soup to your liking. If the vegetables were not pre-chilled, the soup should be kept in the refrigerator for at least two hours.
Bon appetit or as they say in Spain: Que aproveche! (Pronounced something like: Ke aproveche)