Message from 06/09/2022


Author: Helmi Tischler-Venter
Seasonal ingredients are always healthy and cheap. As long as there are still enough asparagus and strawberries, they can be used to make delicious dishes. Strawberries and asparagus can often be bought from the same retailer. By combining it with regional fish, you can quickly conjure up a delicious dish.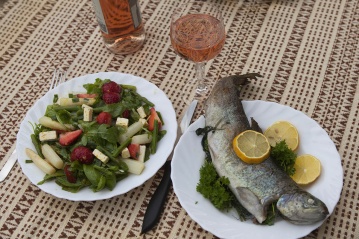 Ingredients for two people:
2 freshly killed trout
olive oil
For filling: salt, dill, cherry, thyme, chives and rosemary
Asparagus Salad:
200 grams of strawberries
30 grams of rocket or lamb's lettuce
300 grams of green and white asparagus
30 grams of feta or mozzarella
Honey Mustard Dressing made with one tablespoon each of balsamic vinegar, honey, medium-hot mustard, olive oil, and a pinch of salt and pepper
10 stalks of chives
2 sprigs of basil
Preparation:
Wash the trout, pat it dry and rub the outside and inside with oil and salt. Then stuff in the chopped herbs. Grill the fish on both sides for about 15-20 minutes. Either you measure the temperature in the thickest part with a cooking thermometer, the internal temperature should be 65 degrees Celsius, or you can carefully pull on the dorsal fin, when the fish is cooked, it will come off easily.


Prepare the asparagus salad:
Wash the strawberries, remove the green, halve or quarter the fruit. Wash the rocket, remove the thick stems. Cut the feta into cubes. Wash the asparagus. Peel the white asparagus and cut off the ends. Cut the green asparagus only at the end. Cut the sticks into diagonal pieces about three centimeters long.
Boil the asparagus pieces in about half a liter of water. Add a pinch of salt and sugar to the water. Cook covered for about three minutes. For the sauce, mix honey, balsamic vinegar, mustard, oil, salt and pepper. Finely chop the chives. Place the asparagus in a colander. Now put the rocket, asparagus, strawberries and feta in a bowl, mix with the sauce and chives and serve with fresh basil leaves. Serve with grilled trout. (htv)
Good appetite
If you have a delicious recipe for us, send it to redaktion@nr-kurier.de. Write your own text and at least one photo you have taken. Thank you very much!

---
More on: Westerwald Recipes

Local: Dierdorf and surroundings
Become a fan of NR-Kurier.de local publication Dierdorf on Facebook!



.